Cline Wins 2019 AIA Firm Award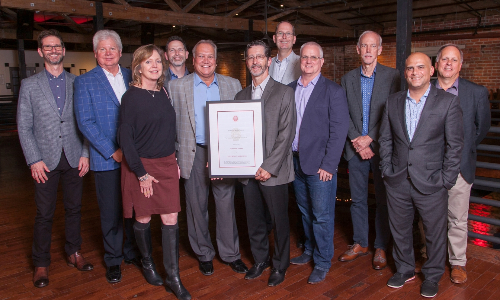 Cline Design Associates was honored with the 2019 AIA North Carolina Firm Award this past Friday, October 11th, 2019 at AIA North Carolina's Annual Meeting and Awards Ceremony in Wilmington, NC.
With offices in Raleigh and Charlotte, Cline Design Associates is dedicated to providing quality architectural, planning and interior design services, as is evident through their 30th Year Anniversary this year. The firm has more than 90 employees, of which include over 30 registered architects, and have won countless design and community appearance awards since its inception.
To receive this award, a North Carolina firm must consistently produce quality architecture with a verifiable level of client satisfaction for a period of a least 10 years and have an established presence in the state. Cline Design recognizes this as the highest honor an AIA Chapter can bestow upon a firm. The award was presented to Gary Cline, President and Managing Principal of Cline Design Associates, along with senior principals & other principals present at the ceremony.
"We were thrilled when we found out we were being nominated for the 2019 AIA NC Firm Award. It is an incredible honor to be the firm chosen out of so many amazing architectural firms in the state of North Carolina. We've put in a lot of hard work over our thirty-year history, as we've expanded our portfolio to include more adaptive re-use projects, office, retail, high-rise towers, and more sophisticated mixed-use and residential projects. As the real estate market keeps booming, we've kept up with the exponential growth, and we're excited that both our new and returning clients have been satisfied with our work. We are privileged to be able to create buildings and homes that have a lasting impact on the people and communities they're in – so thank you to everyone who has contributed to this success recognition."