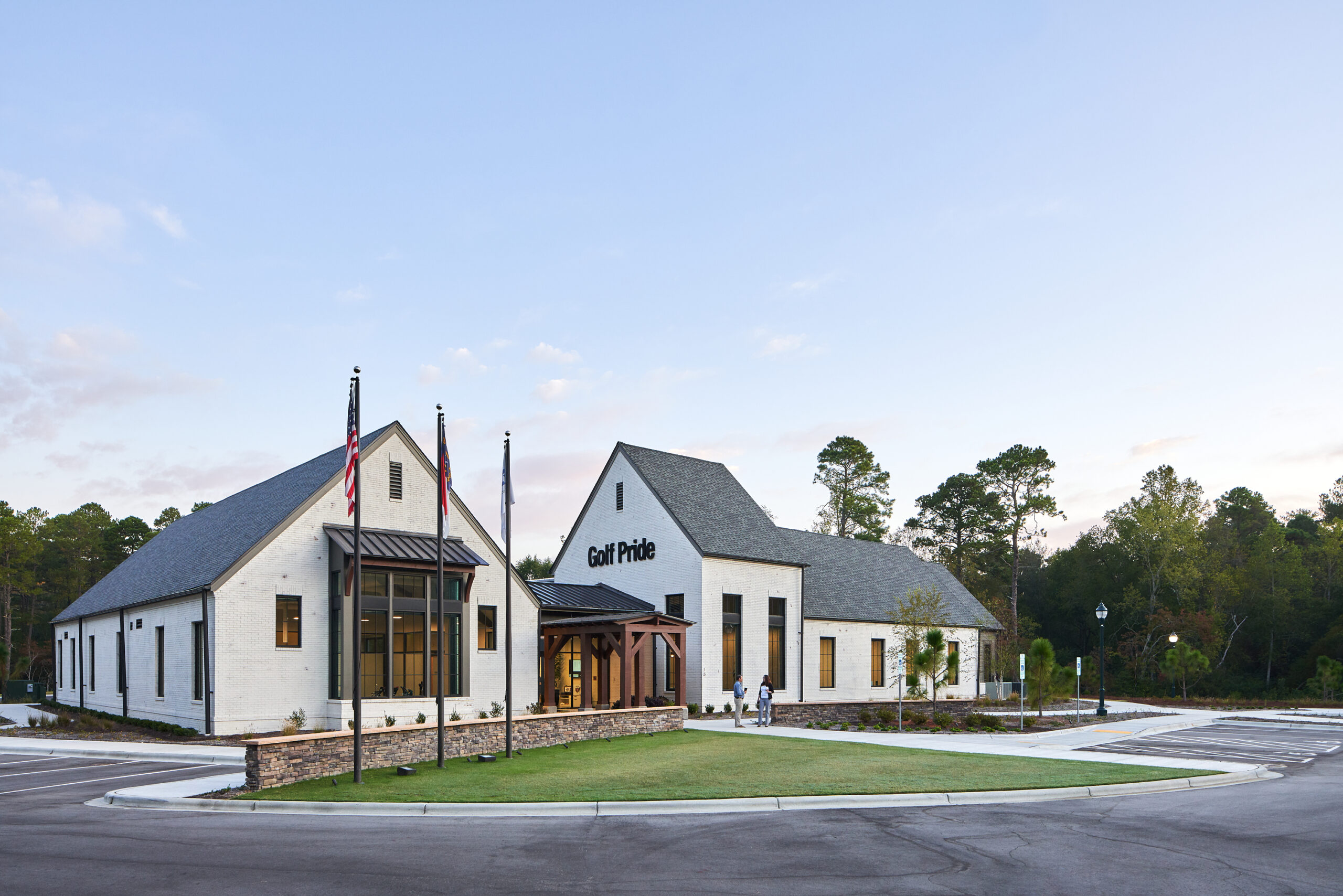 A New Grip on Company Culture.
Pinehurst, NC
Golf pride, a leader in golf grip equipment, was looking for a new and modern corporate headquarters that reflected their growing brand and focus on product innovation – a place that delivered a warm and inviting experience for employees, golfers, and the community.
Our Interior Design and Architecture teams partnered with key stakeholders at Golf Pride and the city of Pinehurst to erect a modern, multi-use facility, that sits squarely in one of the most historic and serene golf communities in America.
An elevated experience.
Golf Pride's goals for their new headquarters were to provide open air meeting spaces, bring in the bright, natural light, and integrate a little fun along the way. We reimagined their workflow so employees had more opportunities to conversate, ideate, and collaborate.
See how Golf Pride changed more than their HQ – the renewed transformation changed the way their employees work.
Nailing the approach shot.
Our approach was to create a sleek and modern building that reignited employees' passion for the brand, and the game. Golf Pride stands as a product innovation center where employees and guests can interact with the grips in a retail environment, while the back of the building operates as an on-site production factory. When its doors opened, Golf Pride welcomed the community in. Perfectly nestled on the Pinehurst golf course, their event and meeting spaces offer endless opportunities to connect with golfers, families, employees, and visitors.
Playing the long game.
Cline took a deep-dive into understanding Golf Pride's business, brand, and focus on the future, to capture the essence of the company within the building's design. Keeping the client's ideas at the forefront, Cline was able to reimagine the space so it represents where – and just how far – Golf Pride can go.
Leaning on a legacy.
The relationship with the City of Pinehurst, a 125-year-old community with a rich golf history, was critical to the development of the Golf Pride headquarters. Rather than compete with existing designs, Cline worked within the resort's aesthetic to complement the woodsy, natural landscape, and integrate seamlessly with the eighth hole of the course.
A brand on display.
Elements of Golf Pride's industry-leading grips have been subtly woven into the fabric of the building – from the lobby lighting to floor-to-ceiling wall graphics – showcasing their culture and inspiration. A putting course can be found along the perimeter of the building to encourage staff to break away and provide an opportunity to test new products.
Cline's willingness to listen to us, ask us hard questions and propose solutions…we just had a great style of collaboration between us and the Cline team.