There's No Place Like Home, Except Maybe the Office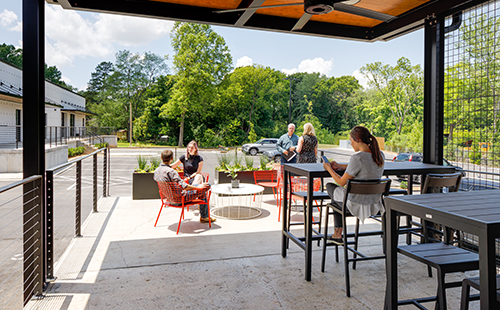 Let's face it, working remote and the need for flexible work schedules isn't a new topic. The pandemic thrust the discussion to the forefront. Leadership is grappling with how to adjust their business to meet staff expectations, win the talent war, and continue to be successful.

People are a critical component of that success. Today, your staff might be back in the office full time, taking advantage of a hybrid schedule, or fully remote. They have adapted to a new way of work that, in most cases, gives them the comforts of home. In the 2021 State of Remote Work report by Owl Labs and Global Workplace Analytics, 36% of respondents believed the office environment was best suited for individual work, 84% preferred to work remotely, and 78% felt more included when in the office.
Time savings, lack of workplace distractions, multitasking personal and work responsibilities, and the ability to see family contributed to the push to work remotely. Conversely, staff burnout, access to office equipment, and at-home distractions make the office attractive.
Winning the workforce
Companies winning the workforce evolution are mastering maximizing productivity by combining time for focused work, creating space for social interaction, being flexible, providing tools to get the job done, and creating a workplace experience unlike any other.
Fostering this environment includes examining your office design. We dissected the remote work environment and, using our knowledge of resimercial design, created a workplace kit-of-parts that provides unique experiences customized to the disparate needs of an evolving workforce. A trip into the office for a day or several, when designed right, helps staff sacrifice less and overcome remote work challenges.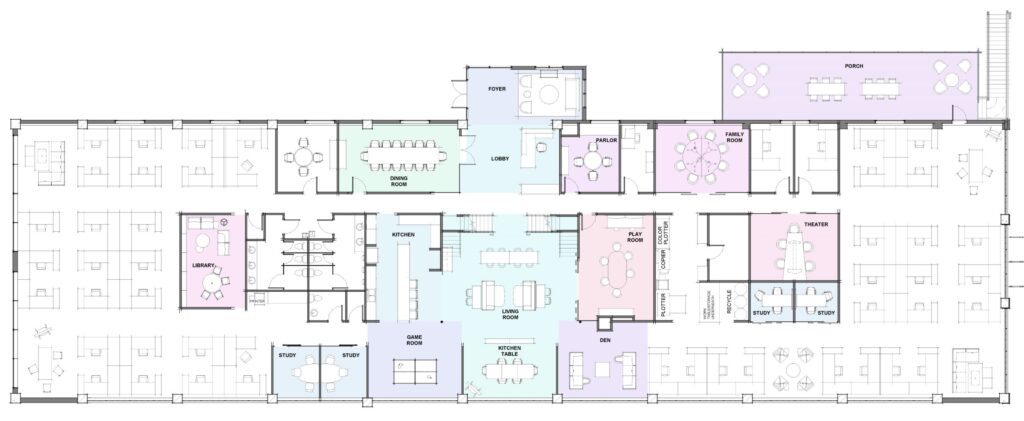 Focused Work. Studies and dens are spaces to help staff focus. Studies are quiet, subdued spaces boasting task lamps and dim environmental lighting. Worktables infused with technology and flanked with soundproofing create an environment free of distractions. The den is a relaxed version of the Study, with worktables replaced by coffee tables and seating replaced by oversized chairs. It's suitable for casual focused work.

Collaboration Spaces. These flexible spaces are exclusive to the office. Incorporating touches of home help attract staff. A central, common area mimics a living room. Large, comfortable couches and lounge chairs, coffee tables, floor lamps, plants, and access to board games and books cue home comforts. Access to technology equipped for online shopping and services and a dedicated area for package delivery allows staff to check off their personal to-do list. Conference rooms such as the theater, playroom, and family room are technology-heavy with a large, central conference room table that converts to smaller tables and is supported with interactive tools such as smart boards. Libraries are a formal version of the Study with worktables, brighter lighting, and large displays conducive to internal meetings.

Social Spaces. The lobby/foyer, porch, game room, living room, and kitchen all serve as areas to encourage both spontaneous and planned social interactions. Underutilized lobby/foyer areas that incorporate den-like seating encourage staff to break from their desk, grab a cup of coffee, and review reports. The game room is an extension of the living room with arcade-style games, shuffleboard, and putting green, immune from meetings. The porch is an outdoor space with high-top tables covered by large umbrellas. Outdoor couches, rugs, pillows, and low tables with access to food and beverage create an entertaining space for guests and staff. The kitchen is the indoor porch for staff to gather and meet.

Wellness Spaces. Each space is designed for flexibility. The living room or porch can be rearranged for an afternoon yoga or fitness session. A Study can serve as a mother's room, meditation area, or massage therapy room. A space for your staff to call home is needed. The desk serves this purpose and can be accessorized with plants, photos, task lighting, and personal touches to make it more like home.
Redesigning your space and infusing elements of home results in a more productive, energized, and engaged workforce. From minor updates to a complete redesign, you and your staff will reap the benefits, positioning your company as an attractive place to call home.