Cline's Namesake Announces Retirement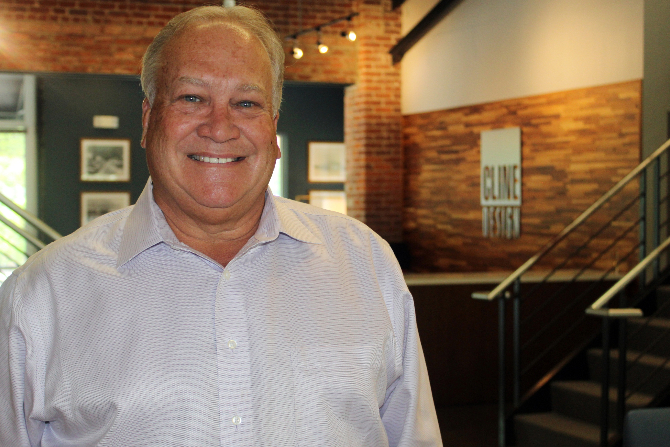 Gary Cline, AIA, Founder of Cline Design, has announced his retirement after 33 years of dedicating his profession to the firm since Cline Design's inception in 1989. He leaves behind a legacy, closing the door to a venture marked with accolades, exponential firm growth, and integrable design and opening the entryway to the next, with a departure honored at the end of 2022.
The firm's lasting impact over the years is evident in Raleigh's growing skyline, confirming Cline Design's value placed in accommodating the needs of the continually growing community they call home. Simultaneously, they have grown themselves – ranging from design complexity, employee count, and the number of new clients and projects – year after year. The firm's history dates to what was once known as Cline Davis Architects, eventually becoming Cline Design when in 2000, sole ownership campaigned by Cline signaled a new name and identity. Since then, the firm has grown two-fold and expanded with an additional office in Charlotte, North Carolina.
"I'm looking forward to starting this next chapter, and I am very confident I'm leaving the company under great leaders who will continue to prosper and grow the firm. I could not be prouder of what we have accomplished over the last three decades. The scale and quality of our design have grown tremendously since we first started, and Cline Design's talent is truly unmatched. I'm excited to see what undertakings they accomplish next," said Cline.
Cline has lent his expertise and knowledge on various speaking engagements including on panels at Bisnow, NAIOP, NAHB, and the North Carolina Apartment Association, and has been featured in publications including the Urban Land Institute, the Triangle Business Journal, News and Observer, and the Charlotte Observer. Under Cline's leadership, the firm has been distinguished for excellence in design through various forms of recognition. In 2019, Cline Design received the 2019 AIA North Carolina Chapter Firm Award. In addition, The City of Raleigh, The North Carolina Housing Finance Agency, the City of Durham, the Downtown Raleigh Alliance, and the national publication, Multi-Family Executive, has also rewarded Cline Design with numerous awards spanning all project types.
Michael Mesnard, AIA, President of Cline Design, praised Cline for his commitment to establishing Cline Design as not only a great place to work, but also fostering a culture that emulates a family-like feel. "I cannot wait to see where Gary's journey takes him next. He will be missed tremendously, and we are forever thankful that he had a hand in building Cline Design into what it is today."